Due to high levels of youth unemployment, in 2013 European Commision launched European Alliance for Apprenticeships (EAfA). In the newly published brochure: Good for Youth, Good for Business, European Commissioner for Employment, Social Affairs, Skills and Labour Mobility, Marianne Thyssen, promotes the initiative: The European Alliance for Apprenticeships (EAfA) promotes the quality, supply and a positive image of apprenticeships, because they are an important vehicle for growth and jobs. (…) The private sector plays a key role in apprenticeship schemes. Apprenticeships can only take place if companies, including small and medium-sized enterprises (SMEs), are willing to take responsibility for the in-company training. This should be done in close cooperation and dialogue with the vocational education and training (VET) providers.

The brochure focuses on the European Alliance for Apprenticeships (EAfA) and addresses the challenges and possible answers of how to strengthen the quality, supply and image of apprenticeships. It is also in line with the new set of medium-term deliverables agreed at European level in the field of VET for the period 2015-2020. The brochure features examples of successful and inspiring apprenticeship and other work-based learning policy initiatives and projects across Europe.
The brochure is available here.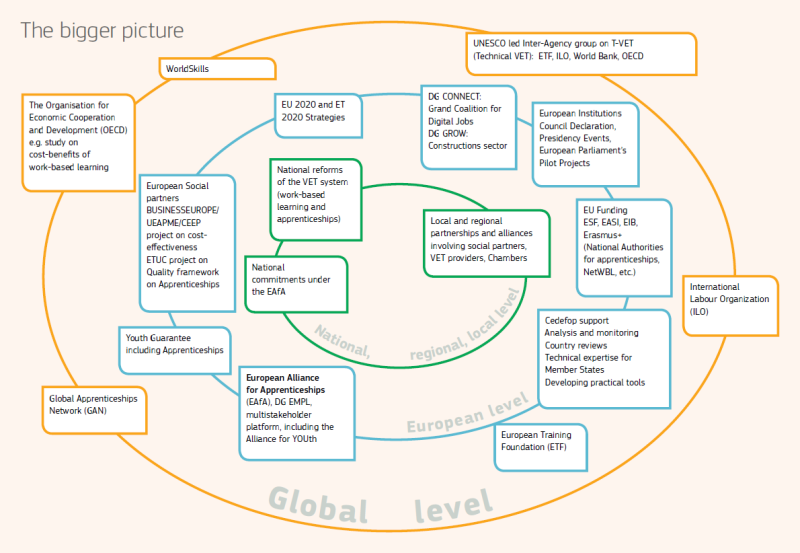 Source: cedefop.europa.eu