Qualifications and vocational education are two closely linked areas of domestic policy as well as key areas of expertise of the Institute for Labour Market Analyses.
Qualification is a formally certified set of learning outcomes. It is a formal outcome of an assessment and validation process which is obtained  by a competent authority, in accordance with procedures, stated that an individual has achieved learning outcomes defined by a given standard.
In Poland many types of qualifications are issued. These qualifications function within the education and  higher education systems, craftsmanship as well as various structures, institutions and organizations which issue the qualifications. Qualifications are also associated with obtaining specific professional entitlements, which  concern, among others,  health care, legal professions, financial services, construction, electrical and power plant engineering, handling machinery and equipment, land transportation, aviation, shipping etc. The concept of qualification in Poland is inextricably linked to the Integrated Qualifications System (IQS, Zintegrowany System Kwalifikacji).
For many years the Institute for Labour Market Analysis has been actively involved in conducting research activities carried out by the Educational Research Institute aimed at the development of guidelines and implementation of Integrated Qualifications System in Poland. The primary objective of the Integrated Qualifications System is to ensure full comparability of diplomas and certificates and guarantee the quality of education and training.
The Integrated Qualifications System includes qualifications awarded in general education, higher education and vocational education and training. Both school and non-school education will be integrated into the qualification system courses, training, workplace learning, self-study and any other form of education included. The implementation of the Integrated Qualifications System will lead to numerous changes in Polish systems of general education and vocational training. The most important of the changes :
Obtaining a diploma or certificate confirming qualifications will be less time consuming, simpler and more accessible than at present.
The assessment of educational offers of schools and training companies will be facilitated.
Planning educational and professional paths will be easier.
Educational and professional advisors will have access to reliable information on educational offer, which will help them to more effectively assist their customers.
Everyone will have the opportunity to formally confirm their competences.
Employers will receive access to reliable information on the qualifications of the candidates, which will facilitate the recruitment process.
Two main elements of the Integrated Qualification System are: eight-level Polish Qualifications Framework, which include requirements described in terms of knowledge, skills and social competences, as well as Integrated Qualifications Register, which will be operated by Polish Agency for Enterprise Development.
Polish Qualifications Framework (PQF, Polska Rama Kwalifikacji) is an eight level structure containing the descriptions of  requirements in terms of knowledge, skills and social competences, which correspond to a given level of qualification. Each level is assigned to the corresponding level in the European Qualification Framework. The main assumption of Polish Qualifications Framework is to provide clarity and transparency of qualifications. The structure of the Polish Qualifications Framework is described in the following diagram developed by the Educational Research Institute:
Polish Qualifications Framework (PQF)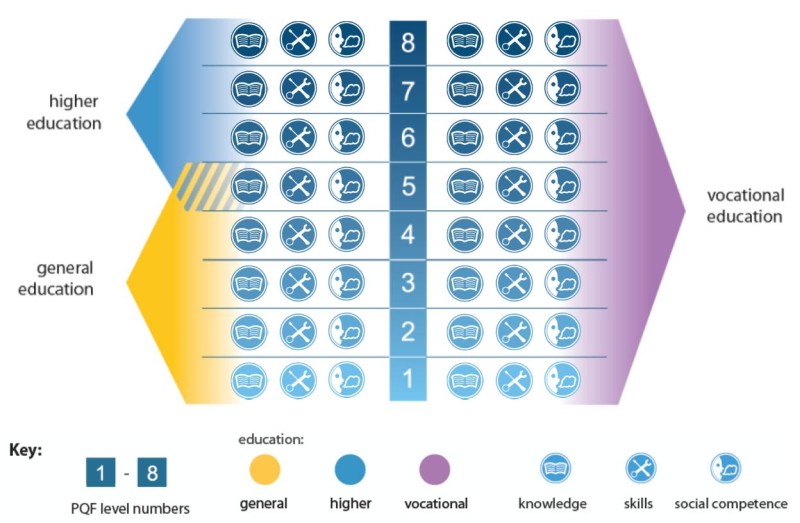 Polish Qualifications Framework is defined at three levels: Polish Qualification Framework referred to the European Qualifications Framework on the first level, the qualifications framework for general education, higher education and vocational education and training on the second level and sectoral qualifications frameworks on the third level. Sectoral qualifications frameworks contain the descriptions of the requirements in terms of knowledge, skills and social competencies specific to particular sectors of the economy. In the first instance five sectoral qualifications frameworks have been developed: for banking, tourism, sports, telecommunications and IT. Institute for Labour Market Analysis in a consortium with Altkom Academy participated in the preparation of Sectoral Qualifications Framework for IT.
Integrated Qualifications Register (IQR, Zintegrowany Rejestr Kwalifikacji) covers qualifications issued in Poland. Integrated Qualifications Register is going to act as the "connector" between different qualifications subsystems, which has functioned function autonomously so far. The Integrated Qualifications Register will function as a repository, storing all data associated with the registered qualifications in digital format. The information collected in the National Qualifications Register will be made available through National Qualification System Internet portal. The qualifications register will include those qualifications whose quality is guaranteed by defined procedures and monitored by a specific entity. The register will include qualifications regardless of already existing qualifications registers and lists or those that will be created in the future in Poland as needed by specific departments, sectors, communities or institutions.
Entering a qualification into the register will mean that it is assigned a PQF level. Thus any qualification entered in the register will  also be referrenced to a level of the European Qualification Framework.
Under the law register will include all qualifications issued by education and higher education systems. For example, matura exam is going to be assigned to the fourth PQF level, and bachelor to the sixth level. Inclusion of qualifications related to the regulated professions regulated will be determined by the competent minister responsible for the given professional area. Other qualifications are going to be included into register on request of stakeholders such as representatives of industries, professional organizations etc.
Vocational education covers initial vocational education, vocational education in a given profession and all forms of vocational training and professional development. Therefore vocational education can be defined as all deliberately organized activities and processes leading to preparation for the profession, including professional orientation and in particular the preparation to carry out professional duties.
Vocational education in Poland is a component of formal education system. After completion of vocational training in basic vocational school, technical secondary school or postsecondary school student can take the exam confirming vocational qualifications. The examination confirming vocational qualifications is not mandatory. Diploma confirming vocational qualifications are issued by Regional Examination Boards.
In addition to the educational system vocational training is also conducted by the Polish Craft Association and in the form of vocational training of young people. Formal confirmation of qualifications acquired this way is carried out by professional examination organized by the examination chambers of crafts, which issue journeyman certificates and masters diplomas. These documents are equivalent to diplomas issued by Regional Examination Boards.
The widely understood vocational education also includes all non-formal and informal forms of education and training and elements of higher education system, such as higher vocational schools.